Soomaaliya (Somali)

Somalia is a region occupying the Horn of Africa, inhabited by Somalis, generally identical with speakers of Somali (Af Soomaali), a Cushitic dialect within Afro-Asiatic. By extension, Somalia is both a country, much smaller than the cultural Somalia, and a state, much smaller than the country. The main city of all three is Mogadishu (Muqdisho).

The boundaries of the country of Somalia were determined by the colonial holdings of Britain and Italy. British Somaliland and Italian Somaliland became independent separately, but were united into "Somalia" shortly afterwards. With the fall of the régime of Mohammed Siad Barre (Maxamed Siyaad Bare) in 1991, the former British Somaliland, now simply 'Somaliland' (Soomaaliland), has been independent, stable, and democratic, but not recognized internationally, while the former Italian Somaliland has undergone protracted war and warlordism and been effectively divided, despite the existence of an organization recognized as the government for all of the country of Somalia. At present, the state of Somaliland is somewhat smaller than British Somaliland, while the state of Somalia — that is, the territory controlled from Mogadishu and recognized internationally — is significantly smaller than Italian Somaliland. The largest of the other components of the former Italian Somaliland are Puntland and the territory of the radical religious group Alshabaab.

Somalia the country excludes Somali territories controlled by three other states: Djibouti, Ethiopia, and Kenya. Djibouti (Jabuuti) is in fact dominated by Somalis, and was also called, in colonial times, 'French Somaliland'. The Somali territory in Ethiopia has traditionally been called 'Ogaden' (Ogaadeen), but has explicitly been organized into a Somali region by the current government, of roughly the same extent as the Somali-inhabited area. Somalis are the predominant cultural and ethnic group in Kenya's North Eastern Province (Woqooyi Bari).


Governments in Somalia: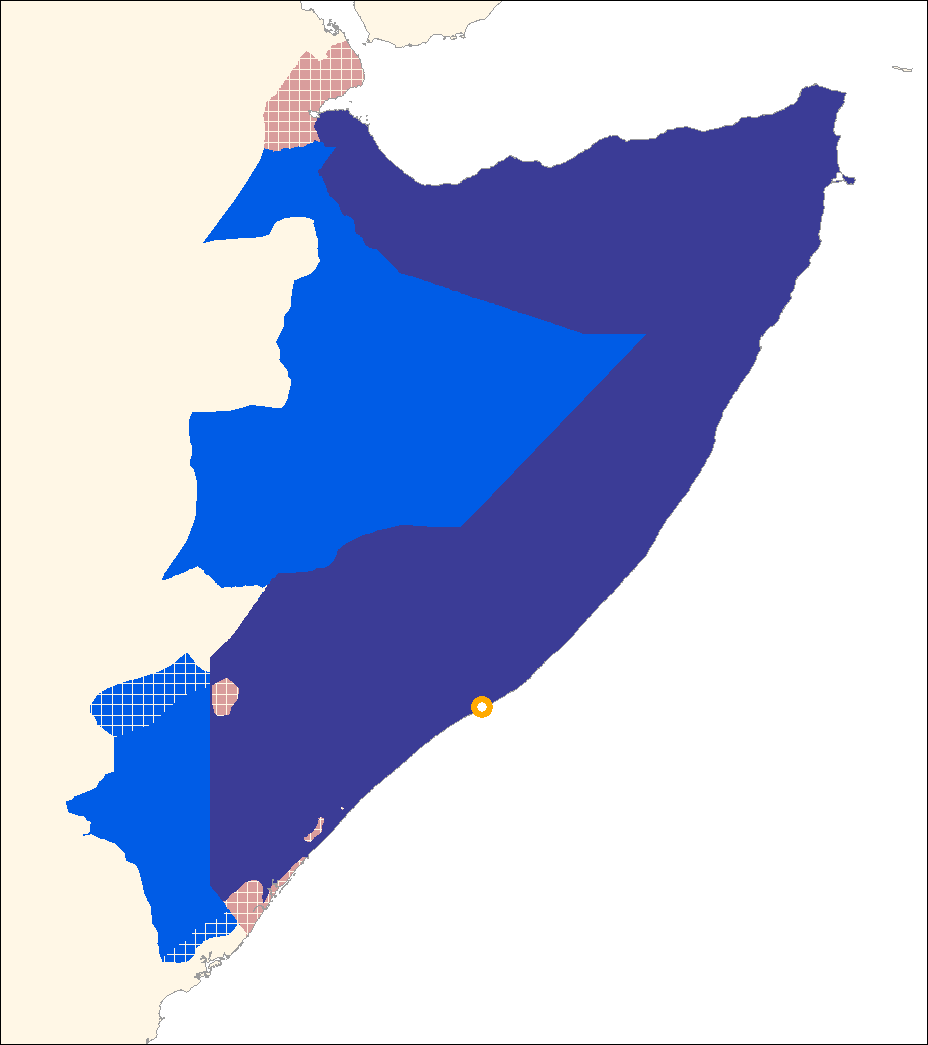 Blue: Somali as a native dialect. Red: Somali as a government-sponsored dialect. Dark blue-purple: Somali as native and government-sponsored dialect. Hatching: other native dialects. Spatial data from SIL/WLMS.