THE CITY
POLITICAL
Fundamentally, the individual should have maximum autonomy, and any collective activity needed should happen at the global level. (See The standard of justice.) The population of the world is urbanizing much faster than such ideals can be effected, though, and some rationalization of urban government is needed in the meantime. A first simple principle is that the metropolitan area should have some unified administration for common issues. This administration should be immediately subordinate to the sovereign level itself; in other words, it should be the equivalent of a province, with no province above it.
All public services should be provided on an integrated basis, considering the integrated nature of metropolitan life.
Public safety
The public-safety official closest to the population should be a generalist first responder.
PHYSICAL
The basic consideration of urban planning should be conservation, the basic goal to minimize human impact on the natural world. Cities are built up, not out. They are located away from preserved wilderness and set back from sensitive natural features. But the city must also be functional, as a residence and workplace for the human population.
Overall plan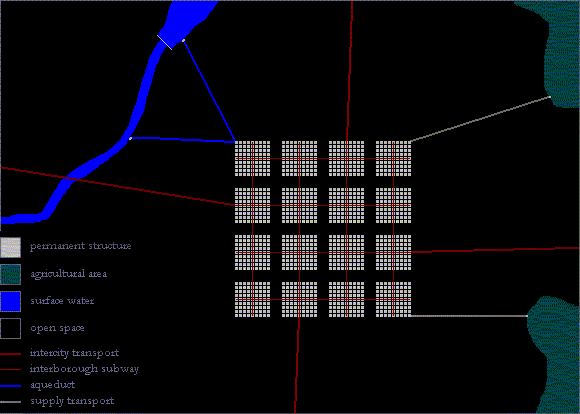 The city is laid out in boroughs, clusters of buildings, connected by mass transit and divided by greenways. The mass transit system is subterranean, to allow the maximum light and air movement between the buildings within each borough. The greenways are meant to make open space accessible to the human population and to provide migratory corridors to wildlife.
Borough transportation plan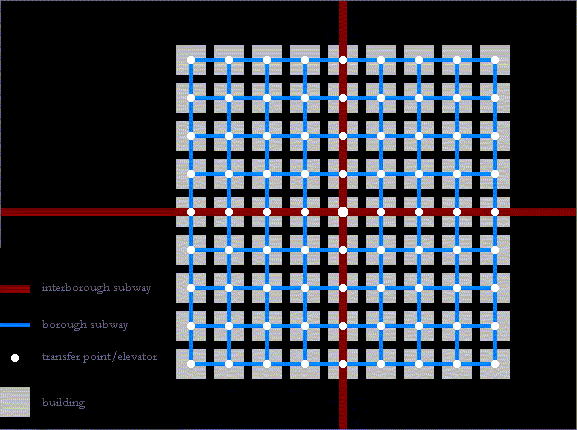 The transportation system is designed to allow a simple and convenient means of moving about the city without personal transportation. The streets between buildings will be open to pedestrians, human-powered transportation (bicycles and the like), and emergency vehicles.
© O.T. FORD